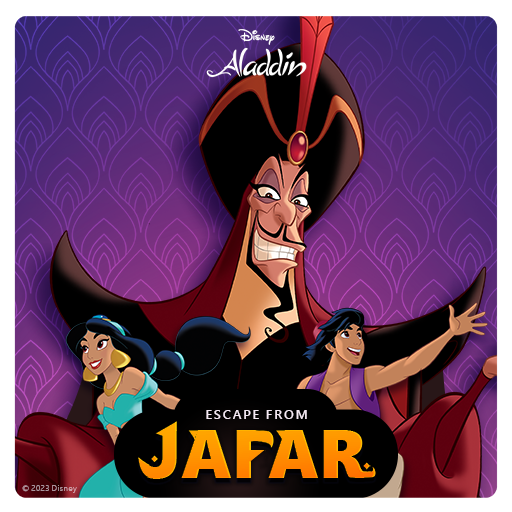 6 story scenes and 5 puzzles to solve
Escape from Jafar
Para Mi Fábrica de Historias
"Soon I will be sultan, not that addlepated fool!"

In the city of Agrabah, two young people dream of freedom. Aladdin is a street urchin, forced to steal to survive. Jasmine is a princess who dreams of leaving her gilded cage. When their paths cross, it's love at first sight… But Jafar, the Sultan's grand vizier and a wicked sorcerer, has other plans. Working in the shadows, he plots to supplant the Sultan and marry his daughter Jasmine. To accomplish his evil plan, he needs a magic lamp that contains a genie - and he's going to use Aladdin to get it.

You're the only one that can help Aladdin and Jasmine! Climb aboard the flying carpet and help them escape from Jafar!

This interactive audio escape game is a new way to enjoy both your Storyteller and Disney's classic movie. Listen in story mode to hear the story of Aladdin, or listen in game mode to solve puzzles and help Aladdin and Jasmine escape from Jafar!

The puzzles incorporate both audio and visual elements with a difficulty level suitable for children ages 5 and up, and do not require reading.

Story mode allows children to choose from numbered scenes in order to navigate the full story and pick up where they left off.