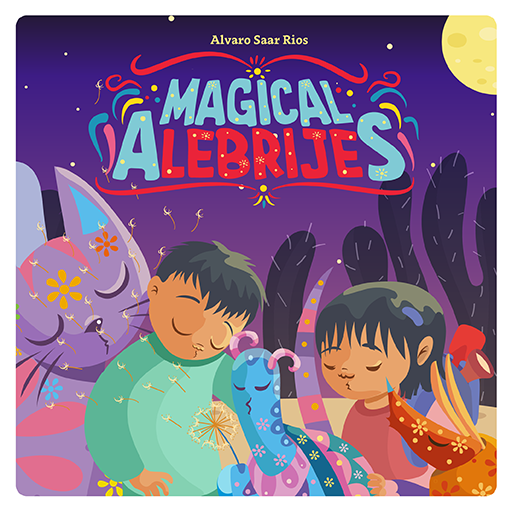 3 adventures, 6 magical conclusions
Magical Alebrijes
It's midnight in the sleepy little town of Cilantro, Texas, when a beam of light awakens Sara Isabel Sanchez. She and her brother, César, make an incredible discovery: creatures from the Land of Alebrijes have traveled through a portal into their backyard! What are the alebrijes doing there? In this interactive audio drama, you decide!

From the rich imagination of children's playwright Alvaro Saar Rios comes an immersive interactive audio adventure commissioned for My Fabulous Storyteller. Listeners will be enchanted alongside Sara and César by all the magic revealed in their neighborhood by alebrijes Reyna, the cat, Celso, the armadillo, and Macario, the turtle.

Lunii notes:
This play is a multilingual experience: the children speak English and Spanish, and the alebrijes speak English, Spanish, and Nahuatl. The dialogue has been carefully crafted so that English-speaking listeners will understand the story perfectly well through context. (And will likely come away with some new vocabulary in the other languages!)

The play begins with an introductory narrative. You can press the OK button to skip the introduction or other story scenes as you explore all the adventures.